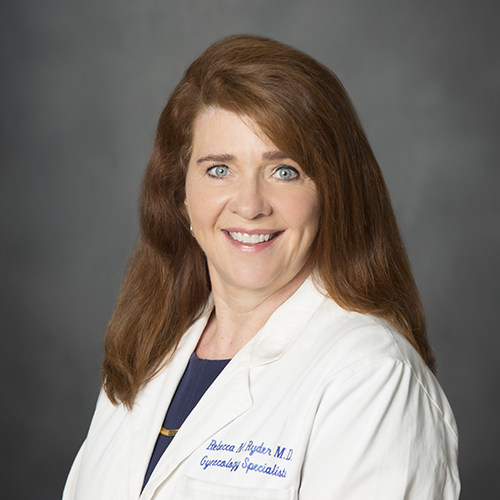 Dr. Rebecca Ryder

Our Reputation

"When I went to see Dr. Rebecca Ryder for some deep pelvic and groin discomfort, she listened, was supportive and gave great suggestions. She has been my GYN doctor for more than 7 years and I love the fact that she is very approachable on any women's issue.

"Dr. Ryder said that exercise to strengthen the pelvic floor and weight loss would help. She also stressed the importance of gaining flexibility, maintaining balance and mobility, and getting more core muscle strength.

"When I went home from that appointment I was motivated to make a change and do something that would be preventative and restorative for my health. I went and joined the YMCA in my area.

"I have lost 15 pounds, exercise 40-50 minutes about 5 to 6 days a week, take aqua classes, swim laps, do yoga two times a week, and have taken the Y-Change class in Nutrition.

"I feel the difference. I am stronger, more flexible and have no more pelvic discomfort.

"When I went for my routine Pap exam six months later, Dr. Ryder's comment when she first saw me was 'You look good. You know you are down 15 pounds since I last saw you. How do you feel?' Dr. Ryder notices, cares, and makes a difference.

"I respect her opinion and have referred friends to her for their gynecological concerns."

Name withheld upon patient's request
Hampton Roads, VA


If you are searching for GYN doctors or GYN clinics for help with deep pelvic or groin discomfort, pelvic floor issues, weight loss, gynecological concerns, pelvic discomfort, or a routine Pap exam, and live in Virginia Beach, Chesapeake, Norfolk, Portsmouth, Eastern Shore, Peninsula, Hampton Roads or North Carolina, please contact us at (757) 312-8221. Our GYN doctors are here to help you.

---

About our GYN doctors
Our GYN clinics comprehensive care helps women with deep pelvic groin discomfort, pelvic floor issues, weight loss, gynecological concerns, pelvic discomfort, routine Pap exam, and more. We serve Virginia Beach, Norfolk, Chesapeake, Portsmouth, Suffolk, Hampton Roads, Eastern Shore, Peninsula, and North Carolina