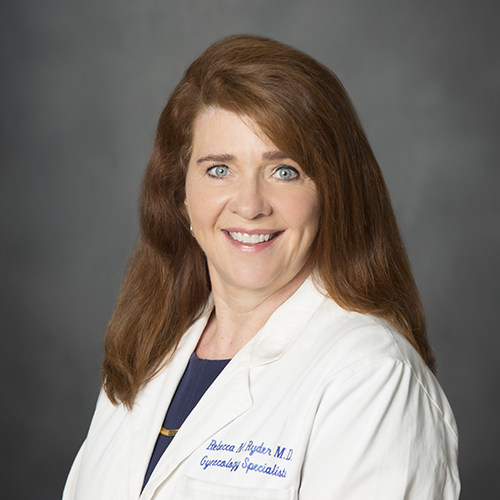 Rebecca M. Ryder, MD
Rebecca M. Ryder, MD, FACOG

Dr. Rebecca Ryder is a board certified gynecologist and one of the few doctors in Hampton Roads to receive the American Board of Medical Specialties' certification for "Female Pelvic Medicine and Reconstructive Surgery," also called Urogynecology. Although many women have never heard of this subspecialty, it focuses on the very common problems of pelvic floor relaxation and problems with the urinary or lower gastrointestinal system, including incontinence.

She is a member of the:
• American Urogynceologic Society
• American Academy of Medical Acupuncture

Dr. Ryder's Obstetrics and Gynecology residency were completed at the University of North Carolina in Chapel Hill, where she also received her undergraduate degree in Nutrition.

She is a former faculty member at Duke University and Eastern Virginia Medical School, where she was the Director of the Division of Urogynecology and the Associate Director of Residency Education.

In 2012, 2013, and 2014, Dr. Ryder was selected by her peers in a Hampton Roads Magazine survey as a "TOP DOC" in her field. In 2019 she appeared in Hampton Roads Physician magazine for her role in the Chesapeake Regional Medical Center being designated a Center of Excellence (COE) by the National Association for Continence (NAFC).

Dr. Ryder practices the future of medicine today by blending the roles of traditional and holistic medicine. She specializes in gynecology and urogynecology, and she is well-versed in bioidentical hormone replacement therapy and other menopausal issues.

"I love my job," says Dr. Ryder. "I enjoy providing health care for women year after year, doing as much preventive medicine as possible, and teaching women how to be as healthy as they can be. And should problems arise, I like fixing them and making women of all ages feel better."

Dr. Ryder says the three most important things women should know or do:
| | |
| --- | --- |
| 1. | Get your yearly checkup. |
| 2. | Don't ignore new symptoms or changes in your day-to-day functioning. |
| 3. | Be proactive, take care of your body and put effort into staying healthy. Eat right, exercise, get enough sleep, and have some good outlets to deal with the stress we all have in our lives. |
Dr. Ryder has provided quality health care to women in Hampton Roads since 1994. She is the mother of two boys, and enjoys the outdoors, reading, traveling, scrapbooking, yoga, and being a private pilot in her (limited) spare time.

If you are suffering from a GYN health issue and live in Virginia Beach, Chesapeake, Norfolk, Portsmouth, Eastern Shore, Peninsula, Hampton Roads or North Carolina, please contact us at (757) 312-8221. Our GYN doctors are here to help you.