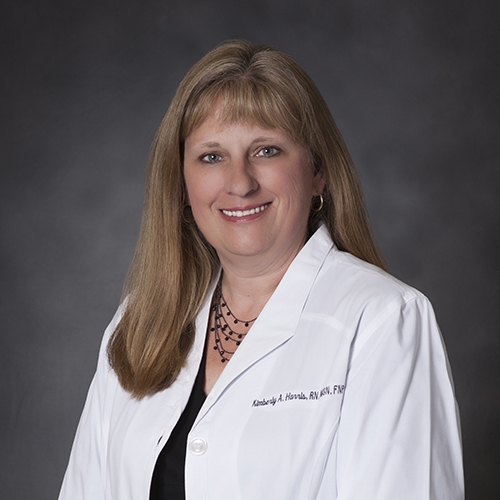 Kimberly Harris, FNP

Our Reputation

"I've been to many gynecologists in regards to heavy monthly cycles, and none of them had a solution to stopping major cramps. I literally was missing days from work every month, and it was getting to be too much.

"Thankfully my doctor recommended Gynecology Specialists where I met RN Kim Harris. I was immediately impressed with her, and my impressions were correct.



Courtney Fentress
"Kim has made my life livable. She has worked with me in regards to my monthly cycles and finally got them under control. Every time I visit Kim she makes sure I am better than 100% when I leave.

"Kim has become an ally in my life. Our visits now are spent catching up on life, both health wise and personally. She listens to what is going on within my life and gives me sound physical and mental advice. She has taken away the stigma of the 'female doctor' annual visit and replaced it with a really comfortable environment.

"Kim knows the importance of being a medical professional, but she also knows how important it is to relate to her patients and treat them as equals instead of just 'patients'. Her approachability and friendliness set the environment to guarantee that my visit will be a comfortable one.

"What separates Kim from RN's and GYN doctors at other GYN Clinics Ihave used is how she relates to me. She puts me on regimens and offers advice that she would take herself. She values me as an individual, not just a patient."

Courtney Fentress
Chesapeake, VA
If you are suffering from heavy monthly cycles, major cramps, or another GYN health issue and live in Virginia Beach, Chesapeake, Norfolk, Portsmouth, Eastern Shore, Peninsula, Hampton Roads or North Carolina, please contact our GYN clinic
at (757) 312-8221. Our female doctors are here to help you.



---
About our GYN Clinic
Our all-female gynecologists and Nurse Practitioner provide comprehensive gynecology services to girls and women of all ages in Virginia Beach, Chesapeake, Norfolk, Portsmouth, Eastern Shore, Peninsula, Hampton Roads and North Carolina. Our GYN clinic services include care for heavy monthly cycles, major cramps, menopause, hormone therapy, and more.