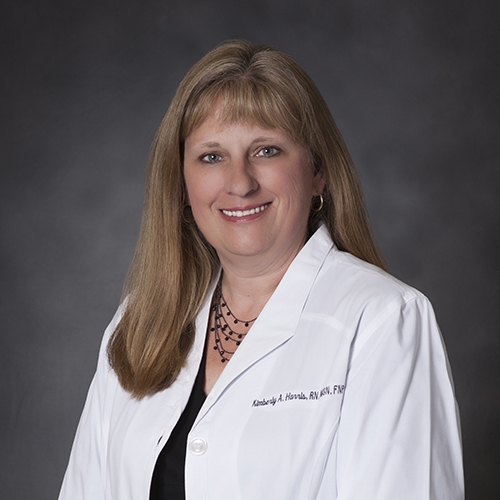 Kimberly A. Harris, FNP
Kimberly A. Harris, RN, MSN, FNP

Nurse Practitioner Kimberly Harris graduated from Binghamton University in New York with a Bachelor of Science in Nursing and earned her Master's degree from Old Dominion University in 1998. She became board certified as a Family Nurse Practitioner in 1999 and has been practicing for 17 years, 14 of those in gynecology and urogynecology with this practice.

Kim has a special interest in adolescent gynecology, STD prevention, and patient education. Her passion is in empowering young women to prevent pregnancy when not desired and to practice a healthy way of living in order to prevent lifelong sexually transmitted infections and cervical cancer.

"I believe every woman needs to know that she has the power to prevent unintended pregnancies, sexually transmitted diseases, and even cervical cancer," says Kim. "Women have more contraceptive options now than ever before, some of which require less regular thought and planning. We, as women, have the right and responsibility to make choices that will lead to a healthy, happy life. I get great satisfaction in teaching women of all ages how to improve health by empowering them with the knowledge needed to make those good choices."

Kim also works closely with Dr. Rebecca Ryder in diagnosing and treating patients with urinary incontinence. Kim does urodynamic testing of the bladder and provides pelvic floor rehabilitation as well as neuromodulation therapy for certain conditions of the bladder such as Overactive Bladder.

She takes pride in giving patients the time they need to express their concerns and have their questions answered.

Kim is a married mother of two children. She enjoys photography, hiking, scrapbooking, and walking with her two dogs. She also loves traveling with her family to see her favorite team in MLB action.

If you are suffering from a GYN health issue and live in Virginia Beach, Chesapeake, Norfolk, Portsmouth, Eastern Shore, Peninsula, Hampton Roads or North Carolina, please contact us at (757) 312-8221. Our GYN doctors are here to help you.