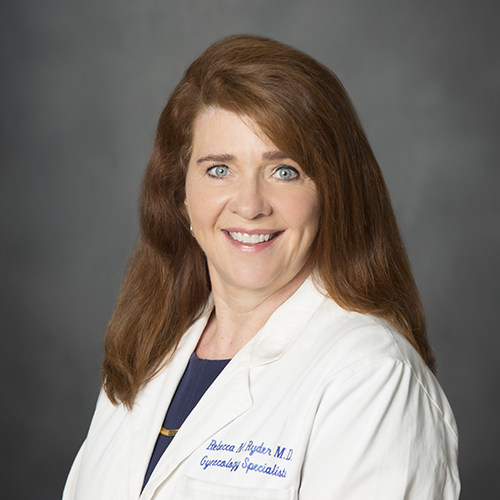 Dr. Rebecca Ryder

Our Reputation

"I was diagnosed with urinary stress incontinence. Due to the nature of the surgery I wanted a second opinion from a Urogynecologist. Dr. Ryder's name came up each time I asked about a second physician.

"After she confirmed my diagnosis, we talked and I learned she had done successful incontinence surgery a number of times. That was a relief because I was looking for a surgeon experienced in this area.

"I was also thankful that Dr. Ryder could do the procedure without a long waiting period.
As a result, I feel 'back to normal' and I'm less concerned about finding a restroom when I'm out of the home.

"Dr. Ryder's surgery, which also included rectocele and cystocele repair, has improved my health and life tremendously. I am able to rest better at night, and I can go about my day, at home or away from home, without the need to be near a restroom at every moment. I am so glad I did not wait to have the procedure done."

"What I like about Dr. Ryder is that she is an experienced Urogynecologist and she took the time to examine me thoroughly and explain the nature of my problems and what the surgery could do for me. She gave realistic expectations and explained the procedure in a way that I could understand. She was THOROUGH.

"And, she was personable. I felt that I could ask her anything, and she took the time to answer my questions completely. I never felt that I was imposing on her time.

"She genuinely cared about me and what I was feeling. I appreciated that."

Judy
Virginia Beach, VA


If you are searching for a Urogynecologist to perform urinary stress incontinence surgery, rectocele repair and cystocele repair and live in Virginia Beach, Chesapeake, Norfolk, Portsmouth, Eastern Shore, Peninsula, Hampton Roads or North Carolina, please contact us at (757) 312-8221. Our Urogynecologist is here to help you.



---

About our GYN doctors
Our Urogynecologist physician provides comprehensive urinary stress incontinence surgery, rectocele repair, cystocele repair, and more for women in Virginia Beach, Norfolk, Chesapeake, Portsmouth, Suffolk, Hampton Roads, Eastern Shore, Peninsula, and North Carolina.