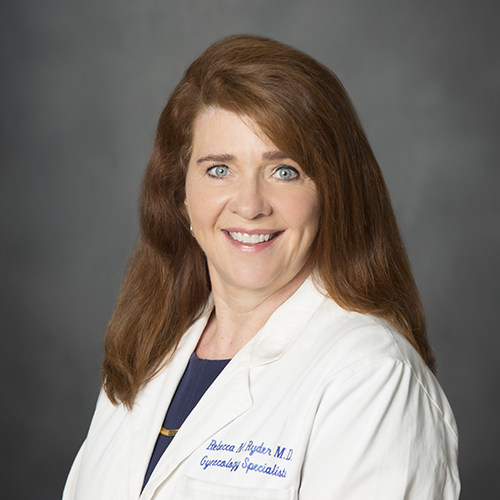 Dr. Rebecca Ryder

Our Reputation

"I have truly loved my GYN doctors, and we are blessed to have many great ones in Hampton Roads. But, I like Dr. Rebecca Ryder most because she is comfortable with herself and others...and because she is very, very good at what she does.

"Dr. Ryder is warm, approachable and has confidence and skill as an GYN doctor. She spends time with her patients, listens, and instills confidence that she understands your concerns when responding to you.

Sheryl Stanworth
"I loved my previous GYN doctor, but I switched to Dr. Ryder on the recommendation of a friend when I was suffering greatly in the early stages of menopause. Dr. Ryder took the time to understand the problems I was having, then carefully guided me to hormone therapy which brought great relief to me at the time.

"My relationship with Dr. Ryder has been very positive. Initially, she guided me through the early years of menopause. Most recently, when a medical condition required immediate attention from an GYN doctor, I was anxious and called during the evening. Dr. Ryder called immediately to reassure me 'that night' that things would be fine in the long run and to just come in the following morning, when she thoroughly explained what had occurred and what my medical options were. Her confidence assured me that all should be well within a few months...and, indeed, it is!
"She developed her expertise in bio-identical hormone replacement therapy, which I prefer over conventional hormone replacement therapy, and she has evenly balanced my hormone level and brought about positive changes in this area, as well.

"The three things I am most grateful to Dr. Ryder for are 1) I can count on her to see me immediately when necessary; 2) I can go long periods of time without running to the bathroom now; and 3) my hormones remain balanced. At 61, these are called miracles."

Sheryl Stanworth
Virginia Beach, VA
If you are suffering from a GYN health issue and live in Virginia Beach, Chesapeake, Norfolk, Portsmouth, Eastern Shore, Peninsula, Hampton Roads or North Carolina, please contact us
at (757) 312-8221. Our GYN physicians are here to help you.



---
About Gynecology Specialists
Our all-female GYN doctors and Nurse Practitioner provide comprehensive gynecology services to girls and women of all ages in Virginia Beach, Chesapeake, Norfolk, Portsmouth, Eastern Shore, Peninsula, Hampton Roads and North Carolina. Services include care for menopause, hormone therapy, bio-identical hormone replacement therapy and more.