About Our Practice

Gynecology Specialists is an all-female practice serving women throughout Hampton Roads since 2004. Our four GYN doctors and Nurse Practitioner provide comprehensive gynecology services through unique individualized care.


Our health care success is based on four important principles:

We understand what you're going through

;

we've been there (or are getting there), and we empathize.

We provide same-day appointments

because we understand many GYN issues cannot wait until an appointment is available.

•

We respect your time

and strive to be on schedule for you.

We are knowledgeable.

Every day new and exciting discoveries occur in women's health. We research, analyze and apply the legitimate and helpful ones.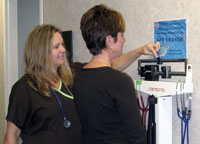 Each day our GYN doctors and staff provide girls and women of all ages in Virginia Beach, Chesapeake, Norfolk, Portsmouth and Hampton Roads with the highest quality gynecological health care available.

We understand the frustration caused by being bounced between GYN doctors and that is why we develop ongoing personal relationships with our patients. We know them well and they know us well -- and that familiarity between patient and doctor is a big part of quickly identifying and curing health problems, and creating a healthy living plan.

From annual gynecological screening and health maintenance to urogynecologic and minimally invasive surgery to routine gynecological health issues, our GYN doctors care for their patients through each phase of their lives.

If you are suffering from a GYN health issue and live in Virginia Beach, Chesapeake, Norfolk, Portsmouth, Eastern Shore, Peninsula, Hampton Roads or North Carolina, please contact us at (757) 312-8221. Our GYN doctors are here to help you.