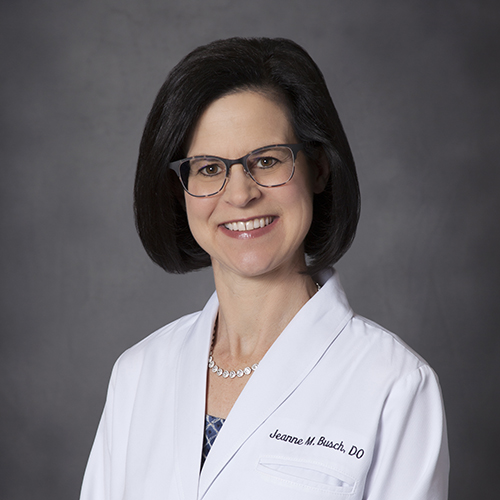 Jeanne Marie Busch, D.O.
Jeanne Marie Busch, D.O., FACOG

Dr. Jeanne Marie Busch is a board certified gynecologist who specializes in treating women with perimenopausal and menopausal symptoms that are superimposed on other chronic medical problems. Dr. Busch works in conjunction with her patients' primary care physicians to ensure comprehensive and accurate GYN care.
Dr. Busch received her medical degree from New York College of Osteopathic Medicine and has been in practice since 1997. She completed her residency at United States Naval Medical Center in Portsmouth, Va., where her many accomplishments included Medical Officer of the Quarter and numerous teaching kudos.
Before joining Gynecology Specialists in early 2016, Dr. Busch led the way in expanding the minimally invasive surgery program at Naval Medical Center Portsmouth. She is experienced and well-known for an innovative laparoscopic technique for hysterectomies which results in minimizing post-operative pain, scars, and recovery time.
Dr. Busch is also highly experienced in:
| | |
| --- | --- |
| • | Adolescent gynecology |
| • | Advanced hysteroscopy |
| • | Surgical procedures, including pelvic organ prolapse and reconstructive pelvic surgery |
| • | Traditional surgical and non-surgical GYN management practices |
| • | Innovative, minimally invasive surgical techniques |
| • | Menstrual Disorders |
| • | Premenstrual Syndrome (including medical treatment, supportive counseling, and ongoing evaluation) |
| • | Contraception |
| • | Fibroids |
Dr. Busch grew up in upstate New York. She is married and has 2 young daughters. She has lived in Hampton Roads and practiced Obstetrics and Gynecology since 1997. She enjoys cooking, knitting, running, skiing, reading, hiking, traveling, tennis and golf.
Dr. Busch believes in empowering and educating women while taking care of their medical needs. She thinks it's important to give patients an understanding of their risk for
female cancers, especially breast and ovarian cancer. Dr. Busch recognizes that each patient is unique and she applies the appropriate evidence-based medicine to each individual woman. She takes a MINDFUL HEALING approach, taking care of the whole woman with a compassionate heart and healing hands.
In her spare time Dr. Busch enjoys teaching 3rd grade church school at her community church on Sundays. She also was recently appointed to the board of the Girls on the Run organization, which works to encourage pre-teen girls to develop self-respect and healthy lifestyles through dynamic, interactive lessons and running games, culminating in a celebratory 5k run. Dr. Busch is also a staunch supporter of Here for the Girls, an organization supporting young women with breast cancer.


If you are suffering from a GYN health issue and live in Virginia Beach, Chesapeake, Norfolk, Portsmouth, Eastern Shore, Peninsula, Hampton Roads or North Carolina, please contact us at (757) 312-8221. Our GYN doctors are here to help you.