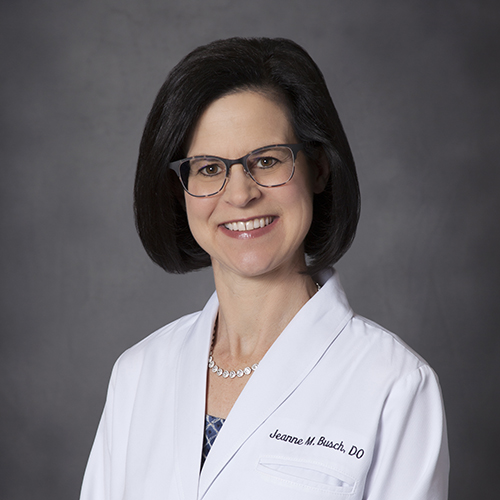 Dr. Jeanne Marie Busch
Our Reputation

"Dr. Jeanne Marie Busch is an amazing Gyn doctor! When I was going through a rather lengthy treatment period she was tenacious in trying whatever it took to heal my condition. And with a sense of humor. We honestly became 'friends', chatting about family, healthy eating and kayaking, among other things. She made a bad situation bearable with her sense of humor and dedication to me as a patient.

"Not only did she help rectify my issue, but she also got me on the right hormone replacement therapy medication which keeps me active and happy. I will keep her as my Gyn doctor as long as she's practicing.

"She is very approachable and knowledgeable and my trust in her is strong enough that I have recommend her to my friends and family.
"Their gyn clinic staff is also very professional, kind and attentive. They are always ON TIME nice, and helpful.
"For example, one day I needed to get my prescription refill from the office but got stuck at the Great Bridge bridge. When I finally got there, almost 10 minutes after closing, I flew up the stairs. When the elevator opened I saw a nice nurse named Chanelle, who was leaving for the day. I explained why I was late and that I really needed to pick up my prescription since I had been out of the medication for a few days. She went out of her way to stay late and she escorted me back to the office and found my prescription. I was almost in tears I was so thankful."
Kimi S.
Chesapeake


If you are suffering from a Gyn issue, or are thinking about Hormone Replacement Therapy and live in Virginia Beach, Chesapeake, Norfolk, Portsmouth, Suffolk, Hampton Roads or North Carolina, please contact Gyn Doctor Jeanne Marie Busch at (757) 312-8221.
---

About our GYN doctors and Gyn Clinic
Our all-female Gynecologists and Nurse Practitioner provide comprehensive gyn services to girls and women of all ages in Virginia Beach, Chesapeake, Norfolk, Portsmouth, Suffolk, Hampton Roads and North Carolina.