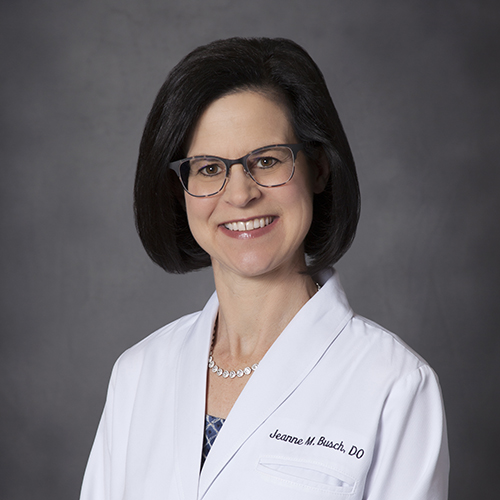 Dr. Jeanne Marie Busch
Our Reputation

"I had an emergency medical condition and called my regular doctor to get an appointment. She was not available so the office made an appointment with Dr. Jeanne Marie Busch due to her availability.

"Dr. Busch reviewed my comments/symptoms that the nurse wrote down and started her analysis of my condition. She asked many
questions to get a better understanding of what I was experiencing and determined the tests she wanted to help her make a diagnosis of what my condition was.

"With the test results, she developed a treatment plan and walked me through the steps of what my options were for treatment. She utilized her knowledge and experience to determine the best course of treatment for my recovery.

"Dr. Busch is tenacious when it comes to developing a treatment plan and providing the follow-through care. She is continually seeking the best possible treatment plan and making sure all avenues are explored to make sure that nothing goes unnoticed for the treatment of the condition. She is a very thorough Gyn doctor.

"It is clear to me that Dr. Busch is fully invested in providing quality care to her patients. She follows through with contacting the patient to communicate the results of tests, give additional information for treatment, and make sure all questions are answered for the condition and treatment. She has given me the highest possible trust in her work.

"I have already recommended her to other women acquaintances in my workplace. I highly recommend her to any woman who are looking for a great Gyn doctor."

Jennifer B.
Chesapeake


If you are suffering from a gyn issue and live in Virginia Beach, Chesapeake, Norfolk, Portsmouth, Suffolk, Hampton Roads or North Carolina, please contact Gyn Doctor Jeanne Marie Busch at (757) 312-8221.
---

About our GYN doctor
Our all-female Gynecologists and Nurse Practitioner provide comprehensive gyn services to girls and women of all ages in Virginia Beach, Chesapeake, Norfolk, Portsmouth, Suffolk, Hampton Roads and North Carolina.